Hunter & Hyland is one of the UK's oldest drapery hardware manufacturers and has been crafting luxury, bespoke curtain poles, finials, tracks and blinds in England since 1889. Our brand refresh includes a new logo, tagline and visual identity which better reflects our company's heritage and will resonate today with our audience.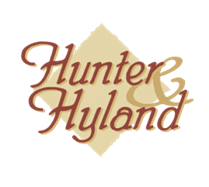 The old logo.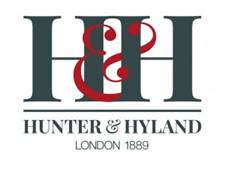 New Hunter & Hyland logo.
The new visual identity and logo utilises heritage colours and a modern font derived from a design created in the 1800s, this was inspired by an exploration of Hunter & Hyland's archives.
Hunter & Hyland's new identity was introduced during 2015 and our new website was launched in September 2016. Over time, you will see the transition of Hunter & Hyland's new identity on all of our marketing materials such as our brochures and trade show displays.
Commenting on Hunter & Hyland's brand refresh, Jonathan Moon, Managing Director, said:
"This a very exciting time for us at Hunter & Hyland, we have a 126-year success story and this new era combines our commitment to continue our tradition of providing quality products and expertise with a fresh, contemporary feel which encompasses this history."