Living Wage Week is a UK-wide celebration of the campaign for a real Living Wage that meets the cost of living, a campaign that Hunter & Hyland is proud to be a part of.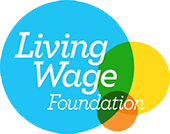 Being a Living Wage employer involves voluntarily opting in to pay our employees an independent Living Wage calculated separately from the Government living wage. Unlike the national living wage, which only applies to workers over the age of 25, the real Living Wage acknowledges that over 18s face the same living costs as everyone else and therefore includes them.
Being a living wage employer is good for business as it increases the morale of staff as well as allowing our business to attract and retain happy, committed and hardworking staff.
Living Wage week is running from until Saturday 5th November and new UK and London Living Wage rates were announced on Monday. Find out more about The Living Wage Foundation CLICK HERE.