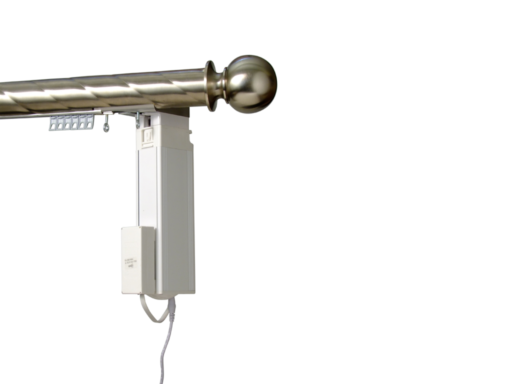 Curtain Pole Motorisation
The epitome of excellence – enjoy the ease and convenience of opening and closing your curtains from the comfort of your sofa or armchair.  Both brass or wooden pole can be corded and motorised.
The motor housing is offset and ensures curtains run straight and true with no unsightly bulge. Hunter & Hyland motorised poles are easy to install and do not require an electrician.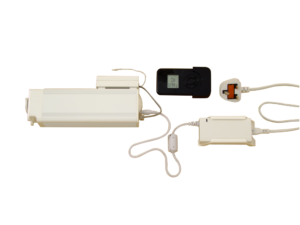 BESPOKE MADE TO MEASURE SERVICE – produced to your specific requirements
Can be used with 51mm, 63mm or 76mm wood or brass poles
Each pole set comes complete with Motor, Receiver, Transformer with 3m of cable & a fitted 3 pin plug
Hand Held Remote Control or Wall Mounted Control
Also available with a Somfy battery motor
Suitable for all leading home automation systems including Lutron. Motorised poles linking to home automation systems should only be installed by a qualified electrician.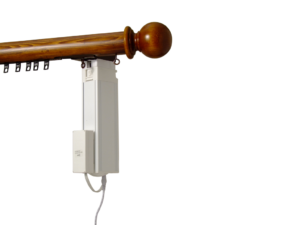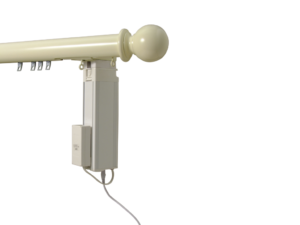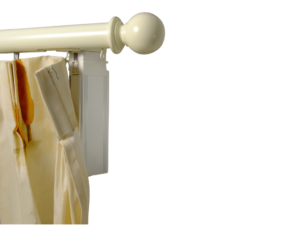 LOAD TABLES FOR ALL OPTIONS
LOAD TABLE FOR CORDED POLES
(maximum recommended curtain weight)
| | | | | | |
| --- | --- | --- | --- | --- | --- |
| Length | 1m | 2m | 3m | 4m | 5m |
| Max KG | 13 | 13 | 12 | 12 | 11 |
LOAD TABLE – MOTOR +/-65 WATT/1.5Nm
(maximum recommended curtain weight)
| | | | | | |
| --- | --- | --- | --- | --- | --- |
| Length | 1m | 2m | 3m | 4m | 5m |
| Max KG | 10 | 20 | 30 | 40 | 50 |
*Based on free running curtains with no floor or heading drag
LOAD TABLE FOR UNCORDED TRACKS WITH LAOLA WAVE GLIDERS
(maximum recommended curtain weight)
| | | | | | |
| --- | --- | --- | --- | --- | --- |
| Length | 1m | 2m | 3m | 4m | 5m |
| Max KG | 3 | 6 | 9 | 12 | 15 |
LOAD TABLE FOR UNCORDED TRACKS WITH ROLLER GLIDERS
(maximum recommended curtain weight)
| | | | | | |
| --- | --- | --- | --- | --- | --- |
| Length | 1m | 2m | 3m | 4m | 5m |
| Max KG | 10 | 20 | 30 | 40 | 50 |
(For extremely heavy weight curtains, extra intermediate brackets should be considered)
View also:
Wireless wall mounted control switch
Motorised curtain poles remote controls