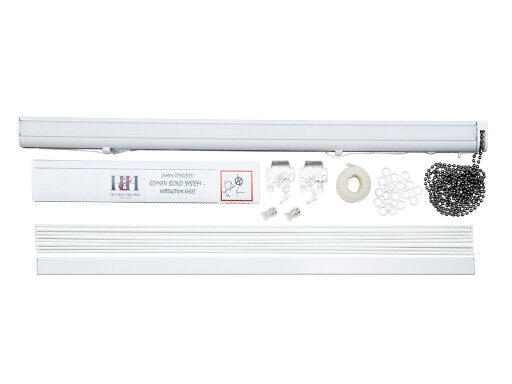 Pre-packed Roman Blind System
Image shows all the elements you will receive in a pre-packed Roman blind kit. It contains everything you will need to make a beautiful Roman blind. It contains all the same elements as a MTM Roman blind and complies fully with BSEN13120 with a smart pull away chain that simply clicks straight back into the head rail in the event of it being pulled away. The pre-packed kit comes complete with:
Profile with pre-attached hook tape
Child safe pulley housing to comply with BSEN13120
Bead chain- 1m drop standard length, stainless steel
Universal smart swivel wall/ceiling bracket
Small white plastic eyelet rings, 13mm diameter
38mm sew on loop tape (to attach to face fabric)
Cord clasps (RBCCS) to comply with BSEN13120 child safety regulations
7x rods
White aluminium bottom bar (22mm x 4mm)
Easy step by step fitting instructions
You can cut a pre-packed Roman blind with a hacksaw.
Maximum weight: 7kg
Pre-packed Roman blind sizes
Code               Description                                                                No. of cord spools    No. of brackets      Cord drop     Chain drop*
RBS060SU    60cm super lift pre-packed Roman blind kit                2                                          2                                    300cm               100cm
RBS090SU     90cm super lift pre-packed Roman blind kit               3                                          2                                    300cm               100cm
RBS120SU      120cm super lift pre-packed Roman blind kit             4                                          3                                    300cm                100cm
RBS150SU       150cm super lift pre-packed Roman blind kit            4                                          3                                    300cm                 100cm
RBS180SU      180cm super lift pre-packed Roman blind kit             5                                          4                                    300cm                100cm
RBS240SU      210cm super lift pre-packed Roman blind kit             6                                           5                                    300cm                100cm
*Alternative chain lengths of 75cm, 125cm and 150cm can be purchased separately