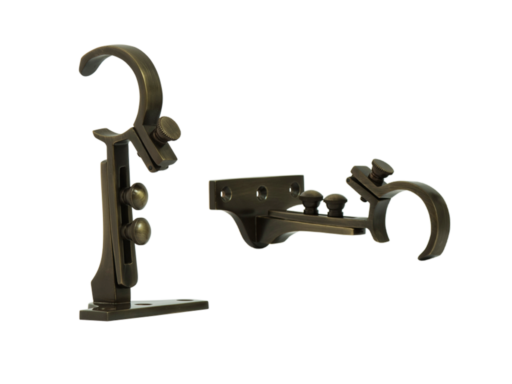 Extendable Brass Overclip Centre Bracket
Hunter & Hyland can produce Brass brackets to bespoke specifications to enable a perfect fit for almost any window. A true speciality ranging from complex uplift brackets to double and even triple pole brackets.
1721EXT EXTENDABLE BRASS OVERCLIP CENTRE BRACKET
A Brass bracket that is available as polished and lacquered Brass and also in 11 beautiful plated finishes: Distressed Brass, Burnished Brass, Antique Brass, Bronze, Light Bronze, Armour Bright, Satin Nickel, Polished Nickel, Satin Chrome, Polished Chrome and Gun Metal.
Stock Unit – Each
Available for – Woodscrew gauge – No.of fixing holes
38mm – 10g – 4
51mm – 10g – 4
63mm – 10g – 4
diameter poles
Back plate dimensions 102mm x 52mm
Specifically designed as a centre support on Wood or Brass Railway poles
Fits over pole. Bracket aperture opened or closed by turning the "thumbscrew"
Allows uninterrupted running of the gliders
For important notes about brackets and brass cornice pole rings – CLICK HERE